This post may contain affiliate links, meaning I may earn a commission for recommending products. Read my disclosure policy for more info.
When I was expecting my first baby, I read EVERY pregnancy checklist I could get my hands on.
I'm sure you can relate. You want to make sure you're doing everything possible to ensure a healthy pregnancy and baby.
But once you start researching, all those lists can start to feel a bit overwhelming.
So, to help you out, I've compiled what I like to call the no-fluff pregnancy checklist by trimester. This list includes the top things you need to do during each stage of pregnancy.
You will also have the opportunity to download a free printable checklist for each trimester to help you keep track of everything!
First trimester checklist
If you're like I was, the first trimester is all about survival. You're exhausted, nauseous, and just trying to make it through each day.
But even in the midst of all that, there are still some things you need to take care of. Here's a list of the main things you need to do during your first trimester.
Schedule your first prenatal appointment
This is an obvious one, but it's worth mentioning. As soon as you find out you're pregnant, call and schedule that first appointment.
At your first prenatal appointment, you'll meet with your OBGYN or midwife and they'll go over your medical history. You may also have your first ultrasound at this appointment and find out your due date.
They'll also talk to you about your pregnancy diet and any lifestyle changes you need to make.
Download a pregnancy planner
The next thing you'll want to do as soon as you find out you're pregnant is – Consider getting yourself a pregnancy planner.
I know, I know. You're thinking, "I don't need another thing to keep track of." But trust me, a pregnancy planner can be a helpful tool.
There are all sorts of pregnancy planners, journals, and keepsakes you can buy, but if you're just looking for the essentials, take a look at our printable pregnancy and baby planner.
It's a 68-page bundle that includes pregnancy journal pages for every week of your pregnancy and plenty of checklists, logs, and trackers to help you stay organized.
Start taking prenatal vitamins
Prenatal vitamins are important for you and your baby's health. They help to ensure that you're getting the right nutrients, even if your diet isn't perfect.
Your OBGYN or midwife may prescribe or recommend a specific brand of prenatal vitamin, but if they don't, just remember that not all prenatal vitamins are the same.
This March of Dimes article recommends that pregnant women get 200 mg of DHA per day to help their babies with healthy brain and eye development.
Many of the prenatal vitamins on the market, especially the gummy versions, don't have anywhere near close to this amount.
These prenatal softgels, however, DO contain the recommended 200 mg along with the other key vitamins and minerals.
Quick tip from one mom to another: If taking your prenatal in the morning tends to make you sick, try taking it in the evenings instead.
Gear up for morning sickness
Unfortunately, morning sickness is a reality for many women during the first trimester (and sometimes beyond). If you're one of the lucky ones who doesn't experience it, that's great!
But if you are dealing with nausea and vomiting, there are some things to help you get some relief from the symptoms.
Morning sickness tea
Tea instead of ginger ale?
A regular ginger ale that you buy at your grocery store likely contains less-than-ideal ingredients like high fructose corn syrup and isn't made with real ginger at all.
If it's the ginger that's supposed to help with nausea, how is that doing you any good, right?
If you can't find ginger ale that actually has ginger, you may want to consider a morning sickness tea like this Pink Stork tea.
Morning sickness candy
Of course, always double-check with your doctor first, but another remedy that's mentioned by the American Pregnancy Association for morning sickness relief is vitamin B6 (source).
Lots of moms swear by these Pink Stork Morning Sickness Candies. They contain vitamin B6 + ginger, and they're organic.
Slightly salty snacks
During my first pregnancy, I also kept saltine crackers by my bed at all times. Sometimes I would even snack on a couple of them before getting out of bed to help settle my stomach.
With my second, I snacked on salted pistachios daily.
Pistachios are lower in calories compared to some nuts and contain roughly 37% of the recommended intake of vitamin B6 (source).
And, if you get the ones that have a little salt on top – They are the perfect pregnancy snack.
Start using a good moisturizer
Even though you won't have a bump yet in your first trimester, it's never too early to get started with a good moisturizer.
Your skin will be doing lots of stretching in the coming weeks to accommodate your growing baby. The sooner you start prepping, the better!
When choosing our favorite skin products, we try to look for products that have a low EWG score.
Based on our research, right now we are really liking the Pipette Belly Butter. It's EWG-verified at the time of writing this.
If you're looking for a moisturizer you can make yourself, you can also try this natural DIY remedy!
Start making healthy choices
Or at least… try to!
If you're experiencing morning sickness, it's definitely easier said than done when the only thing you feel like eating is starchy french fries.
But if you can manage to eat a little something healthy here and there, your body and baby will thank you.
Thankfully, nausea usually gets much better during the second trimester
Stay hydrated
H2O is your new best friend. But, how many ounces of water should a pregnant woman drink?
On average, pregnant women need to drink about 10 cups of liquid per day according to this article. But it's always best to ask your doctor if you have questions or concerns.
You may want to consider getting a water bottle like the Bellybottle pregnancy water bottles. They have hourly drinking lines printed right on the bottle to help you stay on track throughout the day.
Start a baby registry
From here onward, you'll probably read tons of baby registry checklists.
Why not go ahead and start your baby registry now so that you have somewhere to direct family and friends when they ask?
Not sure where to create your registry? I always recommend Amazon because of its massive selection and 90-day returns!
Click here to create a baby registry on Amazon.
Get comfy
When you're not feeling your best, it really helps to dress as comfy as possible.
If you don't have any maternity clothes yet, you may want to snag a couple of pairs of leggings and some flowy tops.
You can live in these things when you're pregnant, and they'll also come in handy for postpartum recovery.
For some of us, dressing comfy also means ditching bras with underwires for a while.
These are perfect if you're looking for a comfy + supportive maternity bra that you can also wear when you start nursing.
Stress less
It's easy to feel overwhelmed in your first trimester if you start overthinking everything.
I've seen lots of other first trimester checklists that tell you to start thinking of baby names, your birth plan, etc. right away.
Honestly, you have plenty of time for that!
Right now, you should be focusing on taking care of yourself and stressing as little as possible during these first crucial weeks.
Rest more
It's not uncommon to feel more tired than usual during the first trimester. So, if you have the chance to rest or take naps, do it!
Your body is going through a lot of changes right now. Don't feel guilty about getting extra rest right now.
Avoid off-limit foods
When I found out I was pregnant with my first son, I researched like crazy. I was surprised to find out that some foods should be avoided during pregnancy.
Here's a quick rundown of the top foods to avoid:
Unpasteurized milk, cheese, and juice
Cold deli/lunch meats – Because of the risk of listeria
High-mercury fish – Tuna, king mackerel, swordfish, shark, etc.
Undercooked meat or fish
Raw eggs
All alcohol
Additionally, it's recommended to limit your consumption of caffeine.
With my first pregnancy, I avoided it entirely. With my second, I limited myself to one cup of coffee per day. I urge you to do your own research and ask your doctor for their recommendation on mg as well.
Take your first belly pic
Yes! Even though you don't have a bump yet, take your first belly pic. You'll love comparing your pictures as your bump grows.
This app has really cute pregnancy milestone stamps you can add to your pics.
Start saving for baby
If you haven't already, start setting aside some money for baby's arrival.
It's so nice to have a nest egg set aside so you'll be completely prepared for anything the baby might need in the future.
Check your medications and supplements
Are you currently taking any medications or supplements?
This also includes all natural supplements. Just because they are "natural" doesn't mean they are necessarily safe to take during pregnancy.
You'll definitely want to double-check and make sure they are safe for baby.
Download a pregnancy tracker
One of the most exciting things about being pregnant is checking to see how big baby has gotten each week.
There are probably dozens of pregnancy trackers and related apps out there, but here are some of the most popular ones:
BabyCenter Pregnancy Tracker
What to Expect Pregnancy & Baby Tracker
Pregnancy +
The Bump Pregnancy Countdown
Ovia Pregnancy Tracker
Start a pelvic floor exercise routine
It's no secret that childbirth and pregnancy in general (due to weight gain) weakens your pelvic floor muscles.
As soon as you find out you're pregnant, you can start doing exercises that help strengthen your pelvic floor. This may help reduce incontinence after having your baby.
There are tons of great apps and resources out there for pelvic floor exercises.
Second trimester to do list
Say goodbye to morning sickness and hello to your new growing bump.
Hopefully, by the time you begin your second trimester, you are feeling much better as far as nausea goes.
These are some of the most enjoyable weeks of your pregnancy!
Announce your pregnancy
If you haven't announced your pregnancy to friends and family, now is the perfect time to do so!
Unless you are a stay-at-home mom, make sure to also tell your employer so that everyone will be on the same page when it's time for your maternity leave, etc.
Wrap up your baby registry
If you have not created your baby registry yet, again, I recommend creating an Amazon baby registry because you'll have a huge selection of baby items and easy 90-day returns.
If you're not sure which baby items to add to your baby registry, this list is a great starting point.
Invest in a good pregnancy pillow
As your bump grows, one of the hardest places to get comfy is your bed.
Getting a good pregnancy pillow should definitely be on your second trimester to-do list.
It will support your growing bump and help you get some relief from the common aches and pains that come with growing a tiny human (or humans!).
Start buying maternity clothes
If you're at the beginning of your second trimester, it may be several weeks before you're sporting that beach ball bump you've been dreaming about.
But that doesn't necessarily mean it's too early to start buying maternity clothes.
They're comfy and stretchy in all the right places! And sometimes that bump seems to appear overnight, so you'll be prepared.
Keep moisturizing
And moisturize some more.
Yes, baby bumps are cute – Very cute. But they can also be itchy!
To help combat the itch, make sure you are moisturizing your belly daily. This may also help prevent stretch marks.
Again, we really like the Pipette Belly Butter if you're looking for an option you can purchase – It's EWG verified.
And if you're looking for a natural DIY option, you can always give this recipe a try.
Stay on top of your prenatal appointments
Next, be sure to stay on top of your prenatal appointments.
This is especially important during your second trimester when you will have several important appointments scheduled.
If you tend to struggle with appointment dates, consider getting a planner to stay organized. There's also a printable appointment log in our pregnancy and baby planner if you'd like to take that route.
Continue to eat healthy and stay hydrated
Are you noticing that much of you second trimester pregnancy checklist has to do with continuing things you were doing during your first trimester?
A lot of the save advice definitely still applies.
The second trimester is usually when the morning sickness finally takes a back seat and your appetite starts to come back. At times, you'll be hungry! Okay, hangry is really the word.
Try to keep a pregnancy water bottle with you wherever you go along with a few healthy snacks. You never know when the pregnancy hanger will strike.
Will you have a gender reveal?
Pink or blue? If you haven't found out already, you will have that option at your 20-week anatomy scan, and that's right around the corner.
If you decide to do a gender reveal, there are tons of fun ideas out there.
But keep in mind that you don't have to find out! In fact, here are 10 reasons why to keep it a secret.
Either way, this is something to think about, and if you do want to do a fun reveal, start planning!
Start planning the nursery
The second trimester is the perfect time to start thinking about and planning the nursery.
When it comes to the nursery, there's quite a bit to think about. You may need to research the best ways to design a budget-friendly nursery or read up on the best blackout curtains to help baby sleep better.
If you've started receiving gifts from family and friends (or bought some baby items yourself), you can start thinking about how you plan to store and organize everything as well.
If you need some inspiration, this post has several nursery organization ideas that are easy to implement. You can also find some beautiful nursery inspiration boards on Pinterest.
Include your other children
If you have other children, be sure to include them!
This is a big adjustment for them as well, and they will need some time to get used to the idea of being a big brother or sister.
You can involve them in the nursery planning process, or even let them pick out a few things for the baby's room.
You may also want to start reading some books about becoming a big brother or sister. This can help them understand the upcoming changes and get excited about the new baby.
Getting them a big brother or big sister shirt they can proudly wear around is also a fun way to include them.
Start brainstorming baby names
The second trimester is the perfect time to start your list of possible baby names. Remember, it's okay if the perfect name doesn't jump out at you right away! It will come to you eventually.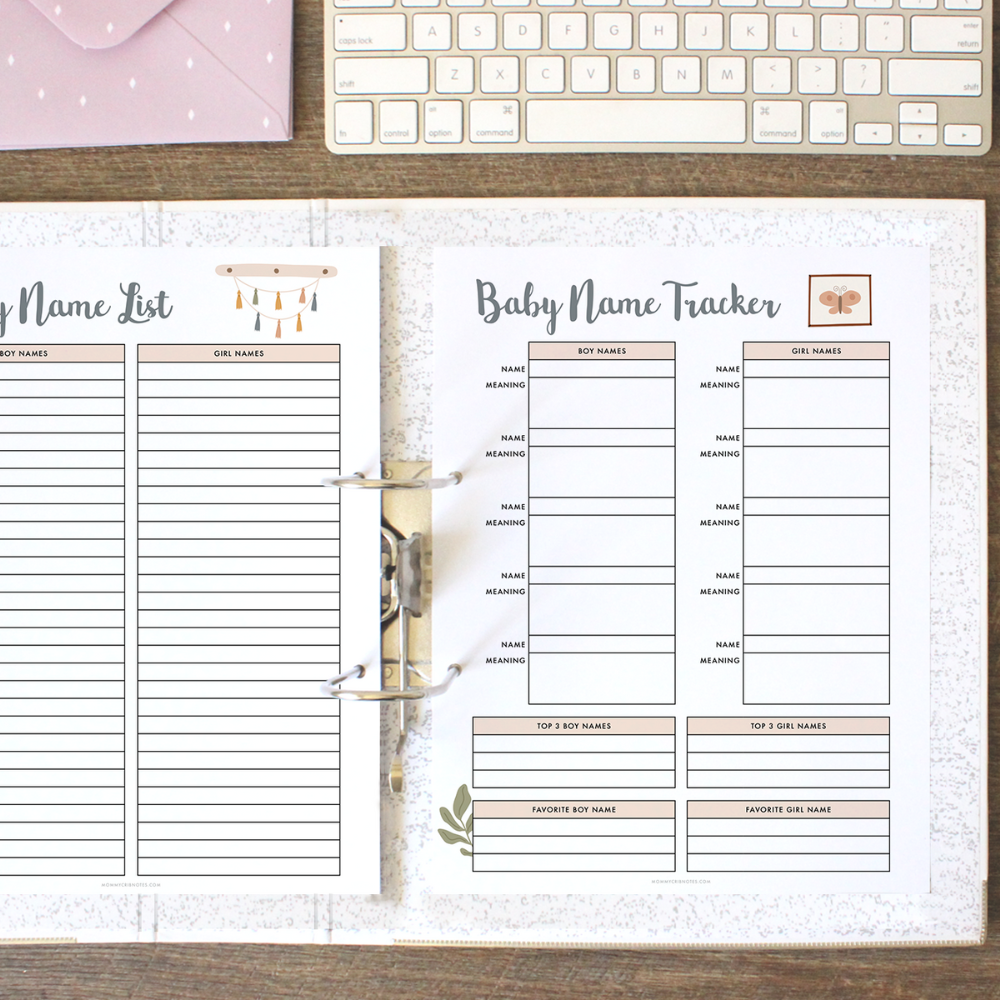 You can grab these baby name trackers here!
Take weekly bump pics
Finally, keep up the weekly bump pics.
You'll love looking back at these and comparing your bump size as the weeks go by, especially when the big bump gets here during the third trimester!
Third trimester checklist: What to do before baby arrives
With baby's arrival right around the corner, this final stage is all about wrapping things up and preparing to meet your adorable new baby.
Here's what you need to do during your third trimester!

Sign up for a childbirth class
The first task to check off your third trimester to-do list? Consider taking a prenatal/childbirth class.
If the thought of finding a class to attend in your area stressed you out, I have some great news for you.
Taking a prenatal class has never been easier. You can now take a full prenatal class without ever leaving your home. And, no, I'm not talking about an awkward Zoom-type meeting either!
The virtual class we recommend is called The Online Prenatal Class for Couples. It was created by a labor and delivery nurse (and mom of 3) and it's jam-packed with information to answer all your questions so that you feel prepared when your big day arrives.
You'll learn everything from pain management to newborn care and more.
You can also sign up for the Beginning Prenatal Class for free!
Do you plan to formula feed or breastfeed?
Next, if you plan to breastfeed, you'll need to stock up on a few breastfeeding supplies. This includes things like…
For a more complete list of breastfeeding essentials, be sure to read this post.
It's also a good idea to set aside some time to read up on the best breastfeeding tips for getting a good latch, etc.
The more tips you know ahead of time, the easier it will be to get the hang of breastfeeding once the baby arrives.
If you want to save yourself some time (a lot of time if we're being honest), consider taking a breastfeeding class as well.
The class we recommend is called The Ultimate Breastfeeding Class. This virtual class will teach you everything you need to know about breastfeeding in under 90 minutes!
And, of course, we have several breastfeeding-related posts you can binge for free:
If you're planning to formula feed, you'll need to do a little research on what type of formula is best for your baby and start stocking up on that as well.
Pack your hospital bag
The third trimester can be unpredictable. Sometimes baby shows up 2 weeks before your due date. Sometimes it's a few days after.
You'll want to make sure you have everything ready to go so that you can grab your bag and head to the hospital as soon as labor begins.
Prepping for a c-section? Here's what to pack.
Make a third trimester shopping list
Do you have everything you need for a newborn?
If not, this is the perfect time to make a list of the last-minute baby items you need to purchase.
A few baby items that are often forgotten about include:
Prepare for postpartum recovery
While you have your shopping list out – Have you also picked up the postpartum essentials you'll need for recovery?
This includes things like:
Maxi pads
Nipple cream (again, don't forget this!)
Stool softener
Peri bottle or Squeezy Bulb for perineal care
Comfortable underwear or mesh panties
Tucks pads
Organic witch hazel
If you're having a c-section, there are a few additional essentials that will make your recovery much more comfortable.
Stock up on household items
Additionally, since you won't be going grocery shopping for a little while, it's also a good idea to add extra household items to your list.
Think about the things you typically have to make a quick trip to the store for.
Things like dishwashing liquid, toilet paper, paper towels, toothpaste, and laundry detergent (highly recommend this laundry powder if you've been looking for a natural alternative that works well) for sure!
Wash baby's clothes and linens
You'll want to make sure baby's clothes and linens are all freshly washed and ready to go.
This includes things like…
Onesies and sleepers
Outfits
Swaddles and blankets
Receiving blankets
Sheets for the crib or bassinet
Sterilize baby bottles/breast pump parts
If you're using bottles, now is a good time to sterilize them. You can do this by boiling them or using an electric sterilizer.
If you're pumping, make sure all the parts of your breast pump are sterilized as well. Most pumps come with instructions on how to do this.
Declutter, clean, and organize!
If you haven't already, now is a good time to start decluttering, cleaning, and organizing your home.
So, if you've noticed an urge to clean and organize lately, that's your nesting instinct kicking in!
And, it can be a good thing – Getting your home in order will help you feel more prepared and less stressed when baby arrives. Plus, it will make it easier to find things when you need them.
Just don't overdo it! Take breaks when you need them, okay?
Prep meals for later
If you can, now is also a good time to start preparing meals for later.
Cooking probably won't be on your radar while you're adjusting to life with a newborn. And fast food will drain your wallet in a hurry.
There are endless inexpensive and delicious make-ahead meals that will make your life much easier while you're recovering.
Some easy things to make ahead include:
Soups and stews
Casseroles
Lasagna
Chili
There are plenty of cookbooks that cover freezer meal recipes if you need some ideas.
Install baby's car seat
You won't be able to leave the hospital without a properly installed car seat. So, if you haven't already, now is the time to install it.
That way, you can strap baby in and head home right away after you've been released.
Don't forget to assemble the rest of your baby gear (and learn how to use it) while you're at it.
Get serious about baby names
If you already have the perfect name picked out, that's great. But if you haven't, time to start narrowing down your options.
If you need a starting point, this book gives you 100,000+ baby name ideas.
Download a contraction tracker app
A contraction tracker app will help you keep track of your contractions so you'll know exactly when/if you should head to the hospital.
If you'd rather keep track of this on paper, we've included a contraction log in the pregnancy planner mentioned above.
Either way – This is useful to have in your third trimester.
Wrap up maternity leave plans
And, of course, you will want to wrap up all maternity leave plans in your third trimester.
Do you plan on returning to work? Are you considering NOT going back to work at all? Let your employer know about your plans if you haven't already.
And if you're already a SAHM, that's one less thing to worry about.
Make plans for your other children and/or pets
If you have other children, you'll need to make plans for them as well. That includes fur babies!
Who will care for them while you're in the hospital? What about while you're recovering? You'll need to have this all figured out before baby arrives.
If you don't have any other children or pets, you can skip this one.
Choose a pediatrician
Finally, select a pediatrician for your new baby.
If this is your first child, don't fret. You can do the majority (if not all) of your research on Google and Facebook.
While you are researching, be sure to read ALL the reviews! The reviews are golden.
Also, don't be afraid to ask around if you have friends or family with younger kids.
Free pregnancy checklist printables by trimester
Ready for those printables? Here you go!
Again, these are completely free. Download the trimester you need or download them all and put them in a binder for easy reference.
There's also additional space so you can write in any other to-do items that are specific to your pregnancy.
Download the 1st trimester checklist.
Download the 2nd trimester to do list.
Download the 3rd trimester checklist.
Download the blank pregnancy checklist printable with one column.
Download the blank pregnancy checklist with two columns.
---
So, there you have it! Our no-fluff pregnancy checklist by trimester.
This will help make each trimester a little less daunting – And hopefully a little more organized.
Did we miss anything? Let us know in the comments below and we'll be sure to add it to the list!